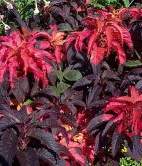 Scientific Name: Amaranthus tricolor
Common Name: Vegetable Amaranth
Other Common Names: Hinn Choy, Red Hinn Choy, Chinese Amaranth, Tampala, Ganges Amaranth, Joseph's-Coat, Joseph's Coat, Amaranth Greens, Chinese Spinach
Plant Type: Annual
Where To Plant: Full Sun to Partly Shady
Soil Types: Average
Zones (See US Zone map): 4-9
Germination: Easy. Hot weather plant. Sow late spring. An earlier sowing can be made in a greenhouse and the plants put out after the last expected frosts. Germination is usually rapid and good if the soil is warm. A minimum soil temperature of 50°F is required to germinate the seeds, but germination is much better with soil temperatures at or above 68°F
Number of Seeds Per Pack: 100
Uses: Culinary
Notes: Good for greens.

AMARANTHUS TRICOLOR. Used against external inflammation, diuretic; treatment for bladder distress.

Price: $2.00/pkt



Any statement made concerning medical conditions treated with this herb is not intended as sound medical advice. The seeds are NOT to be ingested only planted. Herbs need to taken only with the guidance of a trained physician or established herblist.