Sand Mountain Herbs is a family run herb seed company that prides itself on shipping seeds all over the world. Larry Chandler, the owner, handles all order fulfillment and shipping. Shipping is always US Postal Service 1st Class Mail because it is the most economical means of mailing seed domestically and around the world. The second way we ship is US Priority Mail. This is a special service that we offer in which the product should arrive in about one week (give or take a day or 2).

Reasons For Shipping Delays:


In the springtime & fall, SMH is invariably inundated with orders and depending on the backlog of orders, orders can be up to a week behind (this is pretty unusual but can happen in March & April). So in those times, please be patient.

Although USPS 1st Class mail is a very good method of shipping seeds, we do however encounter some delays in shipments in approximately 2-3% of all orders sent this way. Reasons can be as follows,
Wrong address given in order.
Machines have ripped up some orders.
Some are invariably lost. One order arrived after 2 months in the mail (we had already successfully mailed the replacement order).
Overall, expect the USPS 1st Class mail to arrive around 7 to 10 days after shipment but we cannot guarantee that. If this occurs, we will be happy to remail the order again or if all else fails.. refund. Thank you very much & we hope this answers any questions you may have.
Any Questions on an order please email us at




Here is a sample of some of the herbs that we have.


American Ginseng | American Maypop Passion Flower | Angelica | Anise Hyssop | Artichoke | Arugula | Ashwagandha | Avens

For full list visit our herb catalog by common names or scientific name.


JOIN MY HERBAL NEWSLETTER!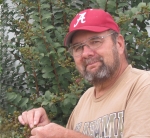 Hi, this is Larry Chandler. Owner of Sand Mountain Herbs. How would you like to join our informative herbal newsletter? The form is below to join. It is fun and informative... Trust me! I will personally guide you to herb gardening success and keep you posted on my latest herbs... no cost to join, so you have nothing to lose and have only herbs to gain!


I promise your email address will never be sold or given to any third party.