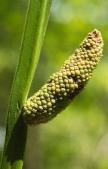 Scientific Name: Acorus calamus americanus
Common Name: Sweetflag or Sweet Flag
Other Common Names: Acore Vrai, Acoro Aromatico, Acorus, Agri Turki, Azakegeri, Bach, Calamo Aromatico, Calamus, Calmus, Calomo Aromatico, Ch'Ang P'U Chiu, Cinnamon Sedge, Djerango, Doringo, Ganoeak, Gladdon, Jariangau, Jerangau, Jeringau, Kaliraga, Kalmoes, Kalmos, Kalmus, Myrtle Grass, Myrtle Sedge, Sarango, Shui Ch'Ang Pu, Sweet Cane, Sweet Flag, Sweet Flagg, Sweet Myrtle, Sweet Root, Sweet Rush, Sweet Sedge, Sweet-flag, Sweetflag, Vacha, Vaj
Plant Type: Perennial
Where To Plant: Full Sun to Partly Shady
Soil Types: Water
Zones (See US Zone map): 3-9
Germination: Medium
Number of Seeds Per Pack: 25
Uses: Medicinal
Notes: Long narrow spice scented leaves. Greenish yellow flowers. Medicinal. Like wet soil

ACORUS CALAMUS AMERICANUS (Sweet Flag) Medicinally useful for flatulent colic, gastritis and dyspepsia. This is the North American variety which lacks the carcinogen, cis-isoasarone, found in European varieties. Root powder is valuable as a fixative in potpourris.

Price: $2.95/pkt

Any statement made concerning medical conditions treated with this herb is not intended as sound medical advice. The seeds are NOT to be ingested only planted. Herbs need to taken only with the guidance of a trained physician or established herblist.