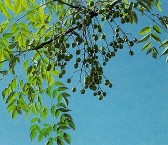 Scientific Name: Melia azedarach
Common Name: Chinaberry
Other Common Names: Alilaila, Amargoseira, Arbol Enano, Chin Ling Tzu, China-berry, Chinaberry, Chinaberry Tree, Chinaberrytree, Faux Sycomore, Fleurs Lilas, Gemeiner Zedarachbaum, Gringging, K'U Lien, Lien, Lila, Lilas, Lilayo, Mindi, Mindi Kechil, Nd, Paraiso, Pazienza, Piment D'Eau, Sen Shu, Sendan, Sibahbah, Tak, Tasbih Aghaji, Violeta, Zanzalakht
Plant Type: Perennial
Where To Plant: Full Sun to Partly Shady
Soil Types: Average
Zones (See US Zone map): 7-10
Germination: Easy. Sow in average garden soil in very early spring.
Number of Seeds Per Pack: 10
Uses: Medicinal
Notes: Grows in southern states. Can grow in large pot. Helps expel worms.

MELIA AZEDARACH (Bead Tree) Beautiful tree, native of China and India; much cultivated in southern U.S. Bark used as an emetic and to expel worms. Hard nuts are used for making rosaries. Hardy along southern B.C. coast.

Price: $2.50/pkt

Any statement made concerning medical conditions treated with this herb is not intended as sound medical advice. The seeds are NOT to be ingested only planted. Herbs need to taken only with the guidance of a trained physician or established herblist.