Scientific Name: Digitalis purpurea
Common Name: Purple FoxGlove
Other Common Names: Bloody Fingers, Deas Men's Bells, Digital, Fairy Caps, Fairy Thimbles, Fairy's Glove, Folk's Glove, Foxglove, Gewoon Vingerhoedskruid, Gloves Of Our Lady, Gula Angustila, Iskif Chichegi, Purple Foxglove, Virgin's Glove, Witches Gloves, Yuksukotu, Zahr Al Kishtiban, Zigitarisu
Plant Type: Biennial
Where To Plant: Full Sun to Partly Shady
Soil Types: Average
Zones (See US Zone map): 4-9
Germination: Easy
Number of Seeds Per Pack: 100
Uses: Medicinal
Notes: POISONOUS. Source of digitalis. Important medicine of the heart. Do not use without medical supervision.

DIGITALIS PURPUEA. Source of digitalis, important for its stimulating and regulating action on the heart, but too powerful to use without medicial supervision. Spotted bells arranged in spikes are highly ornamental.

Price: $2.25/pkt



Any statement made concerning medical conditions treated with this herb is not intended as sound medical advice. The seeds are NOT to be ingested only planted. Herbs need to taken only with the guidance of a trained physician or established herblist.




Here is a sample of some of the herbs that we have.


Sweet Marigold | Sweet Marigold | Sweet Marjoram | Sweet Marjoram | Sweet Rocket | Sweet Trefoil | Sweet Vernalgrass | Sweet Violet | Sweet William | Sweetflag | Tea Tree | Teasel Fuller's | Thistle Blessed | Tomatillo | Toothache Plant | Tree Mallow | Tree Mallow

For full list visit our herb catalog by common names or scientific name.


JOIN MY HERBAL NEWSLETTER!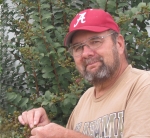 Hi, this is Larry Chandler. Owner of Sand Mountain Herbs. How would you like to join our informative herbal newsletter? The form is below to join. It is fun and informative... Trust me! I will personally guide you to herb gardening success and keep you posted on my latest herbs... no cost to join, so you have nothing to lose and have only herbs to gain!


I promise your email address will never be sold or given to any third party.