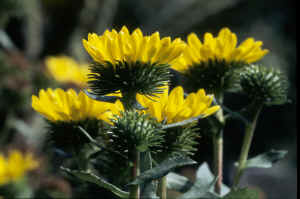 Scientific Name: Grindelia robusta
Common Name: Gumplant
Other Common Names: California Gum Plant, Field Gumweed, Great Valley Gumweed, Grindelia, Gum Plant, Hardy Grindelia, Rosin Weed, Rosinweed, Scaly Grindelia
Plant Type: Perennial
Where To Plant: Full Sun to Partly Shady
Soil Types: Average
Zones (See US Zone map): 7-10
Germination: Easy
Number of Seeds Per Pack: 50
Uses: Medicinal
Notes: Extracts used in poison ivy treatment, burns or rashes. Flower buds are sticky.

GRINDELIA RORUSTA Efficacious for colds, coughs, nasal congestion and bronchial irritations. Also utilized as a healing wash for burns, rashes, blisters and poison ivy.

Price: $2.65/pkt



Any statement made concerning medical conditions treated with this herb is not intended as sound medical advice. The seeds are NOT to be ingested only planted. Herbs need to taken only with the guidance of a trained physician or established herblist.