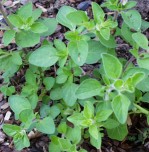 Scientific Name: Origanum vulgare hirtum
Common Name: Greek Oregano
Other Common Names: Cunila Bulbula, Greek Oregano, Izmir Mercankosku, Nd, Origanon, Winter Marjoram
Plant Type: Perennial
Where To Plant: Full Sun to Partly Shady
Soil Types: Average
Zones (See US Zone map): 5-10
Germination: Easy
Number of Seeds Per Pack: 100
Uses: Culinary
Notes: This is the true oregano collected wild in the moutains of Greece. Excellent flavor.

ORIGANUM VULGARE HIRTUM. This is the true oregano collected wild in the mountains of Greece. White flowers; very hardy. Excellent flavor. The pizza herb. Indispensible in Italian, Spanish and Mexican cookery. Hot, spicy flavor complements almost all tomato dishes. Desirable in beef or lamb stew, gravies, soups, salads or casseroles.

Price: $2.00/pkt



Any statement made concerning medical conditions treated with this herb is not intended as sound medical advice. The seeds are NOT to be ingested only planted. Herbs need to taken only with the guidance of a trained physician or established herblist.