Scientific Name: Arnica montana
Common Name: European Arnica
Other Common Names: Leopard's bane, Wolf's bane, Mountain tobacco, Sneezewort, Dagtutunu, and Mountain Arnica
Plant Type: Perennial
Where To Plant: Full Sun to Partly Shady
Soil Types: Acidic soil
Zones (See US Zone map): 6-9
Germination: Hard. Sow stored seed in early spring in cold frame. A period of cold stratification is helpful prior to sowing. The fresh seed can germinate in 3 - 4 weeks at 55°F, though it can be slow, difficult and erratic and take up to 2 years to germinate.
Number of Seeds Per Pack: 30
Uses: Medicinal
Notes: Famous Swiss herb used externally for bruises, burns, and inflammations. Grows better in acid soil. Flowers in July.

ARNICA MONTANA Famous Swiss herb used externally for bruises, burns and inflammations. Also, said to be a good remedy for joint and muscle problems from either injuries or excessive exercise. The seed are difficult to germinate. Grows best in acid soil. Arnica grows native in the mountains of Europe and Siberia, loves poor acidic soil.

Price: $3.50/pkt

Sand Mountain Herbs is the place to order Europeon Arica seeds. Here is an image: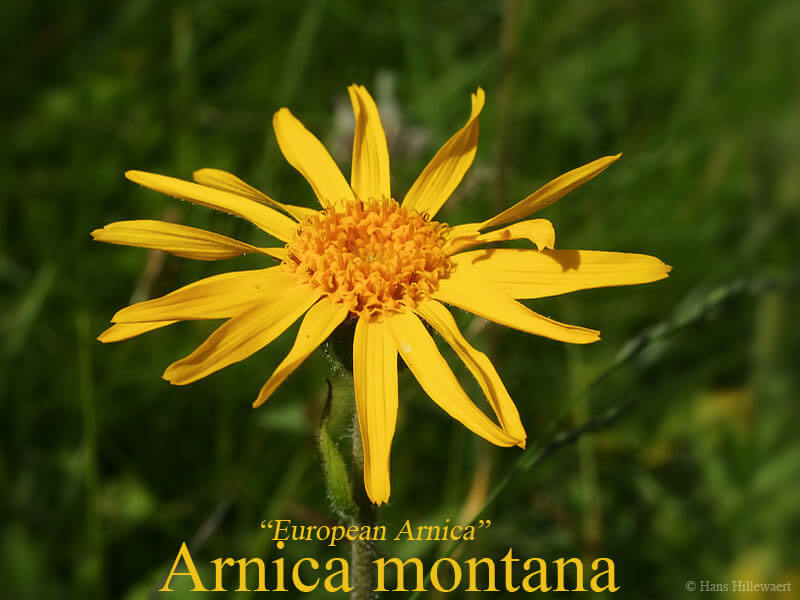 Any statement made concerning medical conditions treated with this herb is not intended as sound medical advice. The seeds are NOT to be ingested only planted. Herbs need to taken only with the guidance of a trained physician or established herblist.