Scientific Name: Pachyrhizus erosus
Common Name: Jicama (Yam Bean)
Other Common Names: Ajipo
Plant Type: Annual
Where To Plant: Full Sun to Partly Shady
Soil Types: Average
Zones (See US Zone map): 7-10
Germination: Easy
Number of Seeds Per Pack: 15
Uses: Culinary
Notes: Tropical vine which produces turnip-shaped tubers which can be cooked or eaten fresh. Must have long growing season.

PACHYRHIZUS EROSUS. Jicama (pronounced HEE-ca-ma) is a tuber vegetable that is a member of the potato family. It is grown in Latin America, typically in Mexico and Central America, and is a popular dietary staple in these regions. Jicama is also known by other names that include the following: the Mexican potato, Mexican yam bean, ahipa, saa got, Chinese turnip, lo bok, and the Chinese potato. Extremely nutritious because it contains a high amount of vitamin C, is low in sodium, and has no calories or fat. Used to thicken soups and sauces in other countries.

Price: $2.50/pkt



Any statement made concerning medical conditions treated with this herb is not intended as sound medical advice. The seeds are NOT to be ingested only planted. Herbs need to taken only with the guidance of a trained physician or established herblist.




Here is a sample of some of the herbs that we have.


Orach | Orange Touch-Me-Not Jewelweed | Oregano Greek | Osage-Orange | Ox-eye Daisy | Oxknee | Pansy King Henry | Papalo | Parsley Green River | Pasque Flower | Passion Fruit | Pennyroyal | Perilla Green

For full list visit our herb catalog by common names or scientific name.


JOIN MY HERBAL NEWSLETTER!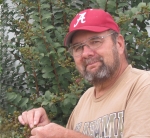 Hi, this is Larry Chandler. Owner of Sand Mountain Herbs. How would you like to join our informative herbal newsletter? The form is below to join. It is fun and informative... Trust me! I will personally guide you to herb gardening success and keep you posted on my latest herbs... no cost to join, so you have nothing to lose and have only herbs to gain!


I promise your email address will never be sold or given to any third party.