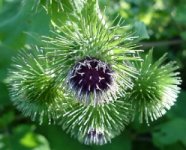 Scientific Name: Arctium lappa
Common Name: Burdock
Other Common Names: Arqityon, Bardana, Beggar's Buttons, Burdock, Burdock Blood, Clot-Bur, Cockle Buttons, Dulavratotu, Fox's Clote, Gobo, Greater Burdock, Greater Burrdock, Grote Klit, Happy Major, Kewe, Kuang Mu Hsiang, Lampazo Mayor, Lappa, Love Leaves, Niu P'Ang Tzu, Niu Ts'Ai, Personata, Philanthropium, Shu Nien, Ta Li Tzu, Takinogawa Gobo, Thorny Burr, Waisar, Wu Shih
Plant Type: Biennial
Where To Plant: Full Sun to Partly Shady
Soil Types: Average
Zones (See US Zone map): 2-10
Germination: Easy
Number of Seeds Per Pack: 25
Uses: Medicinal & Culinary
Notes: Good blood-purifying properties. First year roots edible.

ARCTIUM LAPPAone of the foremost cleansing herbs, providing nourishing support for the blood, the liver, and the natural defense system. It's rich in Vitamins B-1, B-6, B-12, and E, plus manganese, copper, iron, zinc, sulfur, and more.

Price: $2.00/pkt



Any statement made concerning medical conditions treated with this herb is not intended as sound medical advice. The seeds are NOT to be ingested only planted. Herbs need to taken only with the guidance of a trained physician or established herblist.