Scientific Name: Salvia miltiorrhiza
Common Name: Red Sage
Other Common Names:
Plant Type: Perennial
Where To Plant: Full Sun to Partly Shady
Soil Types: Average
Zones (See US Zone map): 9-10
Germination: Hard
Number of Seeds Per Pack: 25
Uses: Medicinal
Notes: Chinese medicinally herb. Helps the heart and calm the nerves.

SALVIA MILTIORRHIZA (Tan Shen, Chinese sage, Red-rooted sage) A most important herb in Chinese medicine. Traditionally used to stabilize the heart and calm the nerves, and to 'lighten' or to 'remove stagnant' blood. Clinical experience shows that the roots are effective against angina pectoris, cerebral atherosclerosis, intravascular clotting and phlebitis. Reduces blood pressure, improves circulation by dilating the blood vessels, and reduces blood cholesterol. Useful for palpitations, irritability and insomnia. Also effective against hepatitis, infections, and many skin diseases such as shingles, dermatitis and psoriasis.

Price: $2.75/pkt



Any statement made concerning medical conditions treated with this herb is not intended as sound medical advice. The seeds are NOT to be ingested only planted. Herbs need to taken only with the guidance of a trained physician or established herblist.




Here is a sample of some of the herbs that we have.


Upland Cress | Valerian | Vanilla Grass | Vegetable Amaranth | Vervain | Viper's Bugloss | Vitex | Wallflower | Watercress | Waterpepper | Wax-Myrtle Candleberry | Weld | White FoxGlove

For full list visit our herb catalog by common names or scientific name.


JOIN MY HERBAL NEWSLETTER!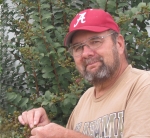 Hi, this is Larry Chandler. Owner of Sand Mountain Herbs. How would you like to join our informative herbal newsletter? The form is below to join. It is fun and informative... Trust me! I will personally guide you to herb gardening success and keep you posted on my latest herbs... no cost to join, so you have nothing to lose and have only herbs to gain!


I promise your email address will never be sold or given to any third party.