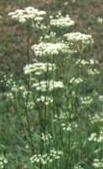 Scientific Name: Pimpinella saxifraga
Common Name: Saxifrage Burnet
Other Common Names: Black Caraway, Burnet Saxifrage, Burnet-saxifrage, Kleine Bevernel, Kucuk Pimpinella, Lesser Burnet, Pate Di Gate, Pimpinela Blanca, Pinpinera, Solid-stem Burnet-saxifrage, Solidstem Burnet Saxifrage
Plant Type: Biennial
Where To Plant: Full Sun to Partly Shady
Soil Types: Average
Zones (See US Zone map): 6-8
Germination: Easy
Number of Seeds Per Pack: 50
Uses: Medicinal
Notes: Good tea for the stomach and intestinal inflammations.

PIMPINELLA SAXIFRAGA (Lesser Burnet) A tea made from the root and sweetened with honey was recommended for the bubonic plague! Used for stomach and intestinal inflammations, catarrh, cough and asthma. Produces white flower umbels July to October. Grows best in dry alkaline soil. 15-50cm.

Price: $2.50/pkt



Any statement made concerning medical conditions treated with this herb is not intended as sound medical advice. The seeds are NOT to be ingested only planted. Herbs need to taken only with the guidance of a trained physician or established herblist.