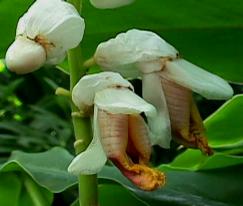 Scientific Name: Elettaria cardamomum
Common Name: Cardamom
Other Common Names: Malabar cardamom, Ceylon cardamom
Plant Type: Perennial
Where To Plant: Full Sun to Partly Shady
Soil Types: Average
Zones (See US Zone map): 8-10
Germination: Hard
Number of Seeds Per Pack: 25
Uses: Culinary
Notes: Good pot plant. Seeds used in Indian cuisine and spiced tea.

ELETTARIA CARDAMOMUM Ground seeds are essential in Indian cuisine; featured in the best of Indian curries, biryanis, pilaus, and dhals, and an important member of the spice mixture, garam masala. Cardamom's perfumed flavor is delicious in lassi, the famous yogurt drink of India, and in Indian spiced tea. Scandinavians are particularly fond of its liberal use in pastries. Leaves are used in curries in Trinidad. Makes an appealing houseplant with its perfumed leaves, even if it is difficult to coax into bloom.

Price: $4.95/pkt


Any statement made concerning medical conditions treated with this herb is not intended as sound medical advice. The seeds are NOT to be ingested only planted. Herbs need to taken only with the guidance of a trained physician or established herblist.