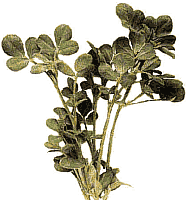 Scientific Name: Trigonella foenum-graecum
Common Name: FenuGreek
Other Common Names: Alholva, Bird's Foot, Boyotu, Chinagreye, Fenegriek, Fenugreek, Foenum Graecum, Greek Hay-seed, Halva, Helba, Hu Lu Pa, K'U Tou, Kelabat, Koroha, Methi, Shimli, Sickle-fruit Fenugreek, Sicklefruit Fenugreek
Plant Type: Annual
Where To Plant: Full Sun to Partly Shady
Soil Types: Average
Zones (See US Zone map): 6-10
Germination: Easy. Needs 70-75 degrees to grow.
Number of Seeds Per Pack: 100
Uses: Culinary
Notes: Ingredient in curry powder. Also used in flavoring.

TRIGONELLA FOENUM-GRAECUM. Common ingredient of curry powder. Used in oriental sauces, soups, stews, and for seasoning and preserving butter. Enjoys much commercial use for making imitation maple, vanilla, caramel and butterscotch flavors.

Price: $2.00/pkt

Any statement made concerning medical conditions treated with this herb is not intended as sound medical advice. The seeds are NOT to be ingested only planted. Herbs need to taken only with the guidance of a trained physician or established herblist.