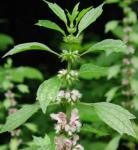 Scientific Name: Leonurus cardiaca
Common Name: Motherwort
Other Common Names: Agripalma, Aslankuyrugu, Common Motherwort, Hartgespan, Motherwort
Plant Type: Perennial
Where To Plant: Full Sun to Partly Shady
Soil Types: Average
Zones (See US Zone map): 4-8
Germination: Easy
Number of Seeds Per Pack: 100
Uses: Medicinal
Notes: Tea good for PMS, menstrual pain and delayed menestration . Gentle sedative help entric nervous system and helps heart.

LEONURUS CARDIACA Especially valuable for PMS, menstrual pain and delayed menstruation. Gentle sedative. Helps calm the entire nervous system. Strengthens the heart and often prescribed for palpitations.

Price: $2.50/pkt



Any statement made concerning medical conditions treated with this herb is not intended as sound medical advice. The seeds are NOT to be ingested only planted. Herbs need to taken only with the guidance of a trained physician or established herblist.