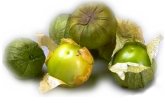 Scientific Name: Physalis philadelphica
Common Name: Tomatillo
Other Common Names: Husk tomatoes, Jamberberries, Jamberry, Mayan husk tomato, Strawberry tomatoes, Mexican green tomatoes, Tomate de cáscara, Tomate verde, Tomate Mexicano, Tomate de fresadilla, Tomate de culebra, Miltomate and Farolito.
Plant Type: Annual
Where To Plant: Full Sun
Soil Types: Average
Zones (See US Zone map): 4-11
Germination: Easy. From 4 to 6 seeds are planted 1/2 in (1.25 cm) deep in hills 2 ft (60 cm) apart in rows 5 ft (1.5 m) apart. When 4 to 5 in (10-12.5 cm) high, the seedlings are thinned to 1 plant per hill. In the midwestern United States, seedlings are raised in greenhouses and are transplanted when about 3 weeks old as soon as all likelihood of spring frosts is past. They will begin to bear 6 to 18 weeks later and continue for about 1 1/2 months.
Number of Seeds Per Pack: 35-50
Uses: Medicinal
Notes: North American Indian Herb. Used to treat worms, snakebites, and earaches.

RUDBECKIA HIRTA Botanical name: Physalis philadelphica. A relative of the tomato and member of the nightshade (Solanaceae) family tomatillos provide that tart flavor in a host of Mexican green sauces. In Mexico the fruit is called tomates verdes, tomates de cascara as well as fresadillas.

The fruits average about 1 -2" wide and have a papery outer skin. The tomatillo is actually used when it is still green. If you see the photo below one of the tomatillos is just turning a light yellow and indicates that is ripe and past its prime for most uses. Tomatillos have a very tart flavor, not at all like a tomato.

Price: $2.50/pkt



Any statement made concerning medical conditions treated with this herb is not intended as sound medical advice. The seeds are NOT to be ingested only planted. Herbs need to taken only with the guidance of a trained physician or established herblist.




Here is a sample of some of the herbs that we have.


Dill | Dotted Bergamot | Double Flowered Hollyhock | DragonHead | Dropwort | East Indian Lemongrass | East Indian Lemongrass | Echinacea Pale-Purple Coneflower | Echinacea Purple Coneflower

For full list visit our herb catalog by common names or scientific name.


JOIN MY HERBAL NEWSLETTER!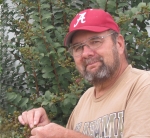 Hi, this is Larry Chandler. Owner of Sand Mountain Herbs. How would you like to join our informative herbal newsletter? The form is below to join. It is fun and informative... Trust me! I will personally guide you to herb gardening success and keep you posted on my latest herbs... no cost to join, so you have nothing to lose and have only herbs to gain!


I promise your email address will never be sold or given to any third party.