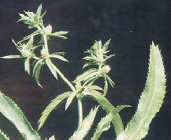 Scientific Name: Eryngium foetidum
Common Name: Mexican Coriander
Other Common Names: Culantro, spiny or serrated coriander, shado beni, bhandhania, chadron benee, coulante (Haiti), recao, fit weed, azier la fièvre, chardon étoilé, Puerto Rican coriander, shado benni, false coriander, shadow-beni, stinkweed, fitweed, long coriander, mexican coriander, ngo gai, spiritweed, bhandhania, false corriander, ketumbar Java, thorny coriander, long corriander, German Langer Koriander, Mexicanischer Koriander, Black Benny, Saw leaf herb, Saw tooth coriander, Spiny coriander, Fitweed, Chardon étoile fétide, Panicaut fétide, Herbe puante, Coriandre mexicain; Coulante, Hindi Bhandhania, Bhandhanya, Hosszú koriander, Mexikói koriander, Puerto Ricó-i koriander, Indonesian Walangan, Khmer Chi banla, Chi baraing, Chi sangkaech, Chi pa-la, Chi parang, Laotian Phak Hom thet, Malay Ketumbar Jawa, Spanish Culantro, Recao, Racao, Shado beni; Chadron benee, Alcapate, Cilantro habanero, Cilantro extranjero, Mexikansk koriander, Thai Pak chi farang, Hom-pomkula, Mae-lae-doe, Phakchi farang, Ngo gai, Mui tau, Ngo tay
Plant Type: Tender Perennial
Where To Plant: Full Sun to Partly Shady
Soil Types: Average
Zones (See US Zone map): 11-13 Needs Heat. Good pot plant.
Germination: Medium. Do not over-water the young seedlings for they will dampen off easily.
Number of Seeds Per Pack: 50
Uses: Culinary
Notes: Use like Coriander in Asia and Latin American. Can be dried and used later in salads and cooking.

Native to Central America, but now cultivated throughout Southeast Asia and Latin America. Favored where the true coriander (Coriandrum sativum) does not do well because it can stand hot, steamy weather. Leaves are tough, but if sliced and then chopped they are quite tasty. Unlike other corianders, this variety dries well, retaining good color and flavor, and it can stand some cooking - properties that may become significant to the dried spice market.
Order Mexican Coriander seeds on Amazon


*These seeds are being sold on Amazon. As an Amazon Associate I earn from qualifying purchases.

Any statement made concerning medical conditions treated with this herb is not intended as sound medical advice. The seeds are NOT to be ingested only planted. Herbs need to taken only with the guidance of a trained physician or established herblist.




Here is a sample of some of the herbs that we have.


Orach | Orange Touch-Me-Not Jewelweed | Oregano Greek | Osage-Orange | Ox-eye Daisy | Oxknee | Pansy King Henry | Papalo | Parsley Green River | Pasque Flower | Passion Fruit | Pennyroyal | Perilla Green

For full list visit our herb catalog by common names or scientific name.


JOIN MY HERBAL NEWSLETTER!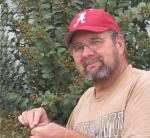 Hi, this is Larry Chandler. Owner of Sand Mountain Herbs. How would you like to join our informative herbal newsletter? The form is below to join. It is fun and informative... Trust me! I will personally guide you to herb gardening success and keep you posted on my latest herbs... no cost to join, so you have nothing to lose and have only herbs to gain!


I promise your email address will never be sold or given to any third party.