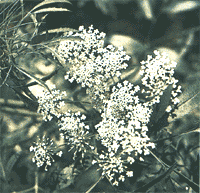 Scientific Name: Ammi majus
Common Name: Lace Flower
Other Common Names: Akkerscherm, Ameo Bastardo, Ameus, Ammi Commun, Bishop's Flower, Bishopsweed, Bullwort, False Queen Anne's Lace, Ghurair, Groot Akkerscherm, Grosse Knorpelmohre, Khillah, Laceflower, Large Bullwort, Rindomolo, Toothpick Ammi
Plant Type: Perennial
Where To Plant: Full Sun to Partly Shady
Soil Types: Average
Zones (See US Zone map): 5-9
Germination: Easy
Number of Seeds Per Pack: 100
Uses: Medicinal
Notes: Use to treat certain skin dieases. Makes good salve. Do not use internally.

AMMI MAJUS (Bishop's weed) Known to the ancient Egyptians as a treatment for certain skin diseases, this humble wild plant of the Nile valley was recently catapulted to the forefront of modern medical research, showing great promise in cancer and AIDS therapy. Attractive white lacy flowers. Makes great pressed flowers. Simply press flower in between newspaper's and press with some books.

Price: $2.00/pkt


Order Here Online

SOLD OUT

SOLD OUT
Any statement made concerning medical conditions treated with this herb is not intended as sound medical advice. The seeds are NOT to be ingested only planted. Herbs need to taken only with the guidance of a trained physician or established herblist.




Here is a sample of some of the herbs that we have.


FenuGreek | Feverfew | Fibre Flax | Figwort | Flax | Florence Fennel | Floss Flower | French Dandelion | French Thyme | Garden Sorrel | Garlic Chives | Garlic Mauve Chives | Germander | Giant Yellow Hyssop | Golden Anise Hyssop

For full list visit our herb catalog by common names or scientific name.


JOIN MY HERBAL NEWSLETTER!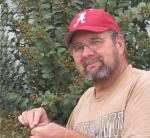 Hi, this is Larry Chandler. Owner of Sand Mountain Herbs. How would you like to join our informative herbal newsletter? The form is below to join. It is fun and informative... Trust me! I will personally guide you to herb gardening success and keep you posted on my latest herbs... no cost to join, so you have nothing to lose and have only herbs to gain!


I promise your email address will never be sold or given to any third party.