Scientific Name: Allium schoenoprasum
Common Name: Grolau Chives (Windowsill Chives)
Other Common Names: Grolau (Windowsill Chives)
Plant Type: Perennial
Where To Plant: Full Sun to Partly Shady
Soil Types: Average
Zones (See US Zone map): 4-11
Germination: Easy
Number of Seeds Per Pack: 50
Uses: Culinary
Notes: Grow in a sunny windowsill for easy access to herbs.

ALLIUM SCHOENOPRASUM. Great tasting with salads and on baked potatoes! Many people use them as window sill chives for a quick treat for lunch! In recent years, studies have shown a link in decreased prostate cancer in men who use it regularly. Packed with phyto-nutrients and antioxidants! Chives provide the body a quick energy boost. The Hebrew slaves that built the Egyptian pyramids always wore a bundle of chives on their belts. As they tired, they ate some chives to renew their stamina. Even in modern times... Gen. Ulysses Grant knew about this ancient energy booster and used it to keep his Civil War soldiers ready for war. He once wrote, "I will not move my troops until the chives arrive."


Order Grolau Chives seed on Amazon


*These seeds are being sold on Amazon. As an Amazon Associate I earn from qualifying purchases.
Any statement made concerning medical conditions treated with this herb is not intended as sound medical advice. The seeds are NOT to be ingested only planted. Herbs need to taken only with the guidance of a trained physician or established herblist.




Here is a sample of some of the herbs that we have.


White Mustard | White Sage | White Stars Feverfew | Wild Basil | Wild Bergamont | Wild Carrot | Wild Dandelion | Wild Quinine | Wild Strawberry | Wild Thyme | Willow Herb | Windowsill Chives

For full list visit our herb catalog by common names or scientific name.


JOIN MY HERBAL NEWSLETTER!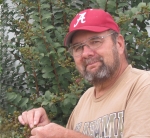 Hi, this is Larry Chandler. Owner of Sand Mountain Herbs. How would you like to join our informative herbal newsletter? The form is below to join. It is fun and informative... Trust me! I will personally guide you to herb gardening success and keep you posted on my latest herbs... no cost to join, so you have nothing to lose and have only herbs to gain!


I promise your email address will never be sold or given to any third party.