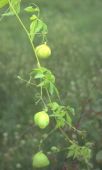 Scientific Name: Cardiospermum halicacabum
Common Name: Heartseed
Other Common Names: Badha, Balloon Vine, Baloon Vine, Bonnet Carre, Heart Seed, Ketipes, Kokalende, Kola Myetsi, Love In A Puff, Love-in-a-puff, Pepare Karung, Peria Bulan, Persil Batard, Pois De Merveille, Pois Merveille, Toffe-Toffe, Uban Kayu
Plant Type: Annual
Where To Plant: Full Sun to Partly Shady
Soil Types: Average
Zones (See US Zone map): 9-11
Germination: Easy
Number of Seeds Per Pack: 25
Uses: Medicinal
Notes: Leaves mixed with castor oil is good to treat stiff limbs, rheumatism and lumbago. Leaf juice good for earaches.

CARDIOSPERMUM HALICACABUM. (Kanphuti, Balloon vine) Climbing annual common throughout India. Leaves are mixed in castor oil to treat stiff limbs, rheumatism and lumbago. Root has diaphoretic, diuretic and laxative properties. Leaf juice is used for earache. Cooked and eaten in India and Africa. Decorative heart-shaped seeds used for necklaces.

Price: $2.25/pkt



Any statement made concerning medical conditions treated with this herb is not intended as sound medical advice. The seeds are NOT to be ingested only planted. Herbs need to taken only with the guidance of a trained physician or established herblist.