Scientific Name: Eryngium campestre
Common Name: Sea Holly
Other Common Names: Cardo Corredor, Echte Kruisdistel, Eryggion, Field Eryngo, Sea Holly
Plant Type: Perennial
Where To Plant: Full Sun to Partly Shady
Soil Types: Average
Zones (See US Zone map): 5-8
Germination: Easy
Number of Seeds Per Pack: 25
Uses: Medicinal
Notes: Seaholly root are both edible and medicinal roots. Dug in autumn boiled and roasted, taste like chestnuts. Dried root tea good for chronic nervousness, kidney problems

ERYNGIUM CAMPESTRE (Eryngo) Grown for its roots which are both edible and medicinal. Fleshy roots, dug in autumn and boiled and roasted, taste like chestnuts. In the 16th and 17th centuries the candied roots, called 'kissing comforts,' were considered aphrodisiac, and were given, with all due discretion, to older people suffering from loss of vitality and shortness of breath. Was prescribed for chronic nervousness and kidney and bladder disease.

Price: $2.25/pkt



Any statement made concerning medical conditions treated with this herb is not intended as sound medical advice. The seeds are NOT to be ingested only planted. Herbs need to taken only with the guidance of a trained physician or established herblist.




Here is a sample of some of the herbs that we have.


Aztec Sweet Herb | Baikal Scullcap | Balloon Flower | Balsam | Bayberry | Beardtounge | Beauty Berry | Belladonna | Betony | Bilberry | Bishopsweed

For full list visit our herb catalog by common names or scientific name.


JOIN MY HERBAL NEWSLETTER!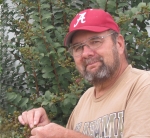 Hi, this is Larry Chandler. Owner of Sand Mountain Herbs. How would you like to join our informative herbal newsletter? The form is below to join. It is fun and informative... Trust me! I will personally guide you to herb gardening success and keep you posted on my latest herbs... no cost to join, so you have nothing to lose and have only herbs to gain!


I promise your email address will never be sold or given to any third party.