Scientific Name: Achillea ptarmica
Common Name: Sneeze Wort
Other Common Names: Aksirikotu, Bottone D'Argento, Hierba Estornutatoria, Nieskruid, Pearl Yarrow, Pearlwort, Pyrethre Sauvage, Sneezeweed, Sneezewort, Sneezewort Yarrow, Wiesen Bertram, Wilde Bertram
Plant Type: Perennial
Where To Plant: Full Sun to Partly Shady
Soil Types: Average
Zones (See US Zone map): 3-9
Germination: Easy
Number of Seeds Per Pack: 100
Uses: Medicinal
Notes: Sneeze Wort powder snuffed up the nose to help cleanse the head sinus.

ACHILLEA PTARMIEA According to Gerard, the powder snuffed up the nose was prescribed to 'cleanse the head of tough slimy humours. White or pinkish fl clusters inspire its other name, the Pearl. Impressive all-round natural remedies without equal. Owing to their bitter principles, they have the reputation as general fortifiers, helping to build the body's natural resistance. They improve digestion, circulation, and the functions of the liver, gall bladder, and kidneys. They are valuable wound herbs for cuts and make excellent cosmetic lotions for cleansing and beautifying the skin.

Price: $2.50/pkt


Any statement made concerning medical conditions treated with this herb is not intended as sound medical advice. The seeds are NOT to be ingested only planted. Herbs need to taken only with the guidance of a trained physician or established herblist.




Here is a sample of some of the herbs that we have.


Dill | Dotted Bergamot | Double Flowered Hollyhock | DragonHead | Dropwort | East Indian Lemongrass | East Indian Lemongrass | Echinacea Pale-Purple Coneflower | Echinacea Purple Coneflower

For full list visit our herb catalog by common names or scientific name.


JOIN MY HERBAL NEWSLETTER!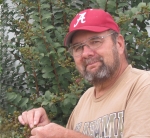 Hi, this is Larry Chandler. Owner of Sand Mountain Herbs. How would you like to join our informative herbal newsletter? The form is below to join. It is fun and informative... Trust me! I will personally guide you to herb gardening success and keep you posted on my latest herbs... no cost to join, so you have nothing to lose and have only herbs to gain!


I promise your email address will never be sold or given to any third party.