Scientific Name: Ocimum basilicum
Common Name: Mammoth Basil



Order Mammoth Basil seeds on Amazon


*These seeds are being sold on Amazon. As an Amazon Associate I earn from qualifying purchases.

Please visit our other pages on mouth watering & uniquely interesting herb basils below:
Mammoth basil is a lettuce leaf basil variety, originating from Italy. Like many culinary basils, it is a cultivar of Ocimum basilicum (sweet basil). The plant grows to approximately 18 inches tall, and produces large ruffled leaves with a jagged edge. The flavor is similar to, but stronger than the flavor of Genovese basil. The leaves are used in pesto or whole, in salads.
Permission is granted to copy, distribute and/or modify this document under the terms of the GNU Free Documentation License, Version 1.2 or any later version published by the Free Software Foundation; with no Invariant Sections, with no Front-Cover Texts, and with no Back-Cover Texts. A copy of the license is included in the section entitled "GNU Free Documentation License". Content on Wikipedia is covered by disclaimers.



Here is a sample of some of the herbs that we have.


Queen Anne's Lace | Rampion | Rattlesnake Master | Rattlesnake-Master | Rauwolfia | Red Cockscomb | Red Lobelia | Red Sage | Red Valerian | Ribgrass Plantain | Roman Chamomile | Roquette | Rupture Wort | Sacred Green Basil | Sacred Lotus | Sacred Purple Basil

For full list visit our herb catalog by common names or scientific name.


JOIN MY HERBAL NEWSLETTER!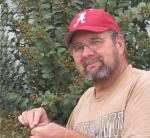 Hi, this is Larry Chandler. Owner of Sand Mountain Herbs. How would you like to join our informative herbal newsletter? The form is below to join. It is fun and informative... Trust me! I will personally guide you to herb gardening success and keep you posted on my latest herbs... no cost to join, so you have nothing to lose and have only herbs to gain!


I promise your email address will never be sold or given to any third party.