Scientific Name: Galium verum
Common Name: Bedstraw, Yellow, Bedstraw, Lady's
Other Common Names: Baqlat Al Laban, Caille Lait, Cheese Rennet, Cheese Renning, Cleavers, Common Bedstraw, Gaillet Jaune, Galio, Geel Walstro, Khitharah, Lady's Bedstraw, Maid's Hair, Our Lady's Bedstraw, Petty Mugget, Yellow Bedstraw, Yellow Spring Bedstraw, Yogurtotu
Plant Type: Perennial
Where To Plant: Full Sun to Partly Shady
Soil Types: Average
Zones (See US Zone map): 3-8
Germination: Easy
Number of Seeds Per Pack: 50
Uses: Medicinal
Notes: Source of yellow and red dyes. Decoration is useful for bladder and kidney complaints. Also use to curdle milk and make cheese.

GALIUM VERUM (Lady's bedstraw) Tops and roots are sources of yellow and red dyes. Decoction is useful for bladder and kidney complaints, and has the ability to curdle milk (hence its other name, 'cheese rennet'). One amazing property of this plant also is its ability to repel flies and other insect. Just keep a container full of it on your picnic table and you will never have to worry about pests when guests sit outdoors at the table!


Order Lady's Bedstraw seeds on Amazon


*These seeds are being sold on Amazon. As an Amazon Associate I earn from qualifying purchases.
Any statement made concerning medical conditions treated with this herb is not intended as sound medical advice. The seeds are NOT to be ingested only planted. Herbs need to taken only with the guidance of a trained physician or established herblist.




Here is a sample of some of the herbs that we have.


Eclipta | Elecampane | English Daisy | English Thyme | Epazote | Eucalyptus | European Arnica | Evening Primrose | Everlasting | False Aloe | False-Blue Indigo | Fassen's Catnip | Fennel

For full list visit our herb catalog by common names or scientific name.


JOIN MY HERBAL NEWSLETTER!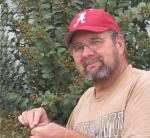 Hi, this is Larry Chandler. Owner of Sand Mountain Herbs. How would you like to join our informative herbal newsletter? The form is below to join. It is fun and informative... Trust me! I will personally guide you to herb gardening success and keep you posted on my latest herbs... no cost to join, so you have nothing to lose and have only herbs to gain!


I promise your email address will never be sold or given to any third party.