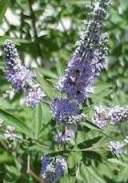 Scientific Name: Vitex agnus-castus
Common Name: Chaste Tree
Other Common Names: Agno Casto, Agnocasto, Bish Barmagh Aghaji, Chaste Tree, Daribrahim, Gatilier, Hayit, Hemp Tree, Kaff Maryam, Keuschlamm, Lilac Chastetree, Lygos, Monk'S Pepper, Monk's Pepper Tree, Monks Pepper, Panjangusht, Pepper, Monks, Poivre De Moine, Ranukabija Sauzgatillo, Seiyo-Ninzin-Boku, Shajerat Ebrahim, Vitex
Plant Type: Perennial
Where To Plant: Full Sun to Partly Shady
Soil Types: Average
Zones (See US Zone map): 7-10
Germination: Medium
Number of Seeds Per Pack: 25
Uses: Medicinal
Notes: Seeds used to subdue the sexual urge. Used by monks.

VITEX AGNUS CASTUS So named because the seeds reputedly subdue the sexual urge and have long been used by monks to produce this effect. But be forewarned: some suggest the aromatic seeds have exactly the opposite effect! Whatever the effect on the libido, it is clear that it has an effect on hormonal balance. Recent German studies indicate that seed extracts regulate menstrual bleeding or too frequent menstruation, and may do this by stimulating progesterone and regulating estrogen. In Germany, women who are stopping oral contraception, use chastetree to help reestablish normal menstruation and ovulation. Hardy to zone 6. Seeds require stratification. Best sown in fall or winter. Will not germinate in hot weather. Vitex, its cousin will but this won't.

Order Chaste Tree seeds on Amazon


*These seeds are being sold on Amazon. As an Amazon Associate I earn from qualifying purchases.

Any statement made concerning medical conditions treated with this herb is not intended as sound medical advice. The seeds are NOT to be ingested only planted. Herbs need to taken only with the guidance of a trained physician or established herbalist.




Here is a sample of some of the herbs that we have.


Sweet Marigold | Sweet Marigold | Sweet Marjoram | Sweet Marjoram | Sweet Rocket | Sweet Trefoil | Sweet Vernalgrass | Sweet Violet | Sweet William | Sweetflag | Tea Tree | Teasel Fuller's | Thistle Blessed | Tomatillo | Toothache Plant | Tree Mallow | Tree Mallow

For full list visit our herb catalog by common names or scientific name.


JOIN MY HERBAL NEWSLETTER!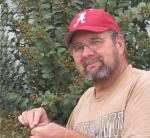 Hi, this is Larry Chandler. Owner of Sand Mountain Herbs. How would you like to join our informative herbal newsletter? The form is below to join. It is fun and informative... Trust me! I will personally guide you to herb gardening success and keep you posted on my latest herbs... no cost to join, so you have nothing to lose and have only herbs to gain!


I promise your email address will never be sold or given to any third party.