Scientific Name: Cyperus esculentus v. sativus
Common Name: Chufa
Other Common Names: Nutgrass, Nut grass, Yellow Nutsedge, Chufa Flatsedge, Yellow Nutgrass, Chufa Flat sedge, Earth-Almond, Tigernut, Water-Grass, Yellow Nut Sedge, Yellow Nut-Grass, Weedy Nutgrass, Amande De Terre, Choufa, Souchet Comestible, Erdmandel, Tiririca, Tiririca-Amarela, Tiririca-Mansa,Cebollín, Juncia Avellanada, Tiger nets, Tigernuts
Plant Type: Perennial
Where To Plant: Full sun
Soil Types: Average
Zones (See US Zone map): 3-9
Germination: Easy. Be sure not to plant the seed too deep. No more than 1/2 inch deep. Germinate in 1-4 weeks in warm soil.
Number of Seeds Per Pack: 25
Uses: Edible, Wildlife
Notes: Grass-like plant with small edible tubers.

(CYPERUS ESCULENTUS V. SATIVUS)This plant's uses dates back to Biblical times in Egypt, where it was used to make cakes as a flour substitute! It is a great source of starch and is known as a survival food! Often called nutgrass, it is found all over and the tubers are definitely edible! The tubers are slightly sweet with a nice nutty almond/coconut-like flavor. It is advised that you soak the tubers in water before they can be eaten because they are very hard. If you plan to use as flour, just grind into flour and substitute for half the flour in a recipe.

In spanish speaking countries, it is often used in the tigernut horchata. A milky drink usually served cold. In fact, one of its uses is often used as a milk substitute for the lactose intolerant. Very nutricous, it is high in phosphorus and potassium and rich in unsaturated fatty acids. Wildlife loves the tubers as well. It is the the single most loved food plot plant to attract wild turkeys! Wild turkeys love chufa! So much so, it is called the The wild turkey's truffle! Deer, ducks, and hogs also love the tubers of the Chufa. It has even been used agriculturally by farmers who grow it around hogs a lot to sweeten the pork meat because the hogs love it so much. Help the local wildlife find the tubers of this plant by exposing the root some. It is also popular in the UK as a good bait for carp-fishing. No shipping of this seed to California, Hawaii, Oregon, Washington, & Colorado.

*These seeds are being sold on Amazon. As an Amazon Associate I earn from qualifying purchases.




Tags:

Any statement made concerning medical conditions treated with this herb is not intended as sound medical advice. The seeds are NOT to be ingested only planted. Herbs need to taken only with the guidance of a trained physician or established herblist.




Here is a sample of some of the herbs that we have.


Soapwort | Spanish Bayonet | Spanish Sage | Speedwell | Spicy Globe Basil | Spike Lacendar | St. Johns Wort | Stinging Nettle | Sugar Beet | Swamp Pink Mallow | Swamp Pink Mallow | Swamp White Mallow | Sweet Cicely | Sweet Clover | Sweet Clover | Sweet Fennel

For full list visit our herb catalog by common names or scientific name.


JOIN MY HERBAL NEWSLETTER!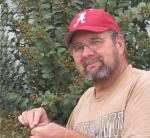 Hi, this is Larry Chandler. Owner of Sand Mountain Herbs. How would you like to join our informative herbal newsletter? The form is below to join. It is fun and informative... Trust me! I will personally guide you to herb gardening success and keep you posted on my latest herbs... no cost to join, so you have nothing to lose and have only herbs to gain!


I promise your email address will never be sold or given to any third party.