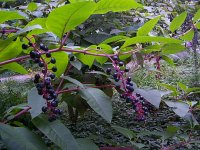 Order poke weed seed now!
Scientific Name: Phytolacca americana
Common Name: Poke Weed
Other Common Names: Pokeweed, Poke salat, Poke sallat, Polk sallat, Poke salad, Poke Berry Plant, Pokeberry, Poke berries, Poke Root, Polkweed, Polk salat, Polk salad, Polkberry, Polk berries, Polk Root, Poke, Polk, American Pokeweed, American Pokeweed, Scoke, Pigeonberry, Pigeon berry, Ink weed, Inkweed, American Poke, American Pokeweed, Bledo Carbonesro, Cancer-root, Hierba Carmin, Pocan, Pokeroot, Reujin D Ours, Sekerciboyaci, Yoshu-Yama-Gobo, Yyamilin, Phytolacca Root, Phytolaccae Radix, Phytolacca Berry, Garget, Méchoacan du Canada, Bear's Grape, Raisin d'Amérique, Red-ink Plant, American Spinach, Crowberry, Jalap, American Nightshade, Cokan, Coakum, Chongras, Morelle à Grappes, Herbe de la Laque, Amerikanische scharlachbeere, Kermesbeere, Virginian Poke, Garget Weed.
Plant Type: Perennial
Where To Plant: Full Sun to Partly Shady
Soil Types: Average
Zones (See US Zone map): 4-9
Germination: Medium. For best germination it is recommended to soak seed in concentrated sulfuric acid for 5 minutes to imitate the process to the deterioration of the seed coat in a bird's stomach.
Number of Seeds Per Pack: 25
Uses: Medicinal
Notes: Dye plant. Very Poisonous!
Phytolacca americana Dye plant. Very Poisonous!
Price: $2.00/pkt
Order Here Online

SOLD OUT

SOLD OUT
BULK Poke Seeds Are Available!
1/8 oz Bulk Seeds

SOLD OUT

SOLD OUT
1/4 oz Bulk Poke Weed Seeds

SOLD OUT

SOLD OUT
1/2 oz Bulk Poke Weed Seeds

SOLD OUT

SOLD OUT
1oz Bulk Poke Weed Seeds

SOLD OUT

SOLD OUT
Any statement made concerning medical conditions treated with this herb is not intended as sound medical advice. The seeds are NOT to be ingested only planted. Herbs need to taken only with the guidance of a trained physician or established herblist.




Here is a sample of some of the herbs that we have.


Chickweed | Chinaberry | Chinese Agrimony | Chinese Cucumber | Chinese Lantern | Chinese Licorice | Chinese Milk Vetch | Chinese Milk Vetch | Chinese Milkvetch | Chinese Plantain | Chinese Red Star Amaranth

For full list visit our herb catalog by common names or scientific name.


JOIN MY HERBAL NEWSLETTER!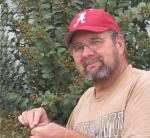 Hi, this is Larry Chandler. Owner of Sand Mountain Herbs. How would you like to join our informative herbal newsletter? The form is below to join. It is fun and informative... Trust me! I will personally guide you to herb gardening success and keep you posted on my latest herbs... no cost to join, so you have nothing to lose and have only herbs to gain!


I promise your email address will never be sold or given to any third party.