Scientific Name: Oryzopsis hymenoides
Common Name: Ricegrass
Other Common Names: Ricegrass,
Plant Type: Perennial
Where To Plant: Full Sun to Partly Shady
Soil Types: Sandy, dry soils
Zones (See US Zone map):
Germination: Sow in fall or winter on north facing area (where it will get plenty of cold). Will sporadically germinate for 1-5 years. Sow seed 1/2-1" deep in fall or winter for spring germination.
Number of Seeds Per Pack: 50
Uses: Medicinal
Notes:

Oryzopsis hymenoides Used for food by the native Indians out west, especially when the maize crops failed. Used like wild rice, even though it is not a true rice. It could also be ground and used as a flour to make bread. The plant is very ornamental. It is naturally found in hot dry soils out west. The seedheads can reach a height of almost a meter. Great in dried flower arrangements. Xeric plant, meaning it is an extremely drought tolerant plant. Wild birds love to eat the seeds of this plant. Mourning Dove (Zenaida macroura) is especially fond of the flavor of this natural grass.

Price: $2.95/pkt



Any statement made concerning medical conditions treated with this herb is not intended as sound medical advice. The seeds are NOT to be ingested only planted. Herbs need to taken only with the guidance of a trained physician or established herblist.




Here is a sample of some of the herbs that we have.


Mountain Mint | Mouse Ear Hawkweed | Mugwort | Mulberry | Mullein | Munstead Lavender | Munstead Lavender | Musk Mallow | Musk Mallow | Narrow Leaf Mountain Mint | Nepitella | New England Aster | Niebita | Nigella | Omega Flax

For full list visit our herb catalog by common names or scientific name.


JOIN MY HERBAL NEWSLETTER!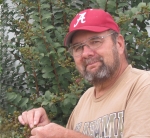 Hi, this is Larry Chandler. Owner of Sand Mountain Herbs. How would you like to join our informative herbal newsletter? The form is below to join. It is fun and informative... Trust me! I will personally guide you to herb gardening success and keep you posted on my latest herbs... no cost to join, so you have nothing to lose and have only herbs to gain!


I promise your email address will never be sold or given to any third party.